Swim Gear: Choosing the Right Swimsuit Material
Everyone likes finally finding that perfect swimsuit–just the right color or pattern, and holds up well after hours of swim time. When it comes to picking the right swimsuit, the options can be dizzying! There are many different kinds of materials, blends, and fits, not to mention cut and color. What type of swimsuit is right for me? Do the materials of a swimsuit make a difference? What's the difference between all the different types of swimsuit materials? What we're going to be looking at is two of the more prominent swimsuit materials–polyester and spandex–and the pros and cons of each. Let's dive in!
Swimsuits are made in a variety of materials, from spandex to Polyester to blends of polyester and spandex, and nylon. Polyester and Spandex are two common swimsuit materials, and each have their own strengths. Choosing the right swimsuit material for you and your needs will make a difference in swimsuit durability, comfort, as well as budget considerations.
Polyester has become a popular choice for swimsuits in the past couple years, particularly in competitive swimming. Polyester swimsuits are known for being durable and long-lasting. They hold their color and shape after repeated use in the water, and are chlorine-resistant. The material also protects from UV rays. However, do note that polyester suits have less stretch than spandex suit, which can lead to a slightly less comfortable fit, and do run a bit smaller in sizing, an important fact to keep in mind when picking a suit! Making Waves swim instructor Jerrica B prefers polyester swimsuits, having bought four last March and after 20-50 hours in the pool weekly she is only just now replacing them! Polyester suits can be a bit pricier in initial cost, but their durability under all conditions makes them a good choice for long-lasting wear and allows for saving money in the long run, particularly if you're involved in competitive swimming or water sports. If you're a more casual swimmer, while polyester is still a good choice, you might also be interested in spandex swimsuits as well!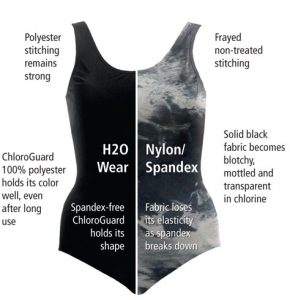 Spandex, which can also be marketed under the name Lycra, is another popular swimsuit material. Spandex is a stretchy material that offers a very good, comfortable fit. Spandex is known for its elasticity and stretch, which is ideal for swimming. Spandex suits have also been used by competitive swimmers, however one disadvantage is that spandex suits are not as chlorine friendly. Spandex suits must be rinsed in cool water after each use, and don't hold up as well with the harsh chemicals of the pool which can lead to discoloration of the suit. That being said, spandex suits are less expensive than polyester suits, so if you're a casual swimmer looking for a quality swimsuit at a mid-range budget level, spandex might be the swimsuit material for you!
When picking the right swimsuit material for you, there's a lot of factors to consider. Both spandex and polyester suits have their advantages and disadvantages but what's important to keep in mind is what the priority is for you as a swimmer. Are you more of a casual swimmer with a low budget, or do you spend more hours in the pool and need a durable material that can hold up to the extra exposure? Either way, there's a swimsuit for you, and hopefully this guide has been able to point you on your way!
Swim Safe. Swim Fast. Have fun!