For the Salam Family, Learning to Swim Has Been Life-Changing
When Fabian Salam showed up for his first Making Waves swim lesson at age 3, he was terrified of the water. He was very nervous and reserved. According to swim instructor Eric Wembacher, this is common for a new swim student, especially a child as young as Fabian. Even so, try telling that to the child's mom.
"I was pretty worried at the first lesson," said Sugenny Salam, Fabian's mother. "He was so scared. But when I saw how calm Eric was, how patient he was with Fabian, it put my mind at ease. I knew it would eventually get better."
Eric's goal was to make that initial experience as enjoyable as possible and help Fabian build confidence. Eric and Fabian played with toys, put their faces in the water and blew bubbles. They eventually progressed to the point where Fabian was comfortable enough to swim with floatation.
This was the biggest difference from the group lessons Fabian had previously tried at the local community center. The crowded pool was overwhelming and distracting for Fabian, and if one child cried, they all started crying. Private, one-on-one lessons with Making Waves allowed Fabian to get comfortable and learn at his own pace.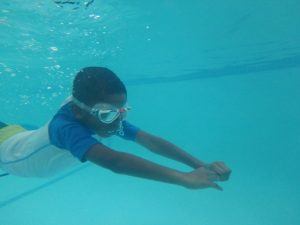 "One of the first things we teach students is how to float on their back," Eric said. "It's a basic skill that can help you avoid drowning. Fabian would sing 'Twinkle Twinkle Little Star' to help himself relax when he first learned to float on his back. This was a major step towards learning to swim on his own."
Before long, you couldn't get Fabian out of the water. He was looking forward to class. He learned other safety skills, like treading water and rolling over back-to-front and front-to-back. By the time Fabian turned 5, he was swimming confidently and independently.
Today, Fabian is 8 years old and still takes swim lessons with Making Waves. Now that Fabian has learned to swim on his own, the focus is on improving technique and perfecting various strokes.
"He loves to go fast," Eric laughed. "He'll sometimes swim for a while, look at me, and ask if he's doing it like Michael Phelps. He can do certain strokes, but now he's learning to do them really well, under control and without splashing."
The changes in Fabian went far beyond the pool. When he goes to a birthday party, he jumps in the pool with confidence and has fun. When Fabian goes on vacation, his parents have peace of mind in and around the water. Fabian is always supervised, but he knows what to do if he's in trouble.
Fabian's energy and excitement has proven to be contagious. His mother and father, Sugenny and Romel, didn't know how to swim and were always nervous around the water. Both have taken private lessons with Making Waves. In fact, Eric is helping Sugenny train for her first triathlon. Fabian's brother, Marius, started taking lessons when he was 2 1/2 years old and is swimming confidently at age 4. Now, Marius loves swimming as much as his big brother.
"If I could sum up our family's experience with Making Waves in one word, it would be life-changing," Sugenny said. "Seeing how Fabian loves to swim motivated all of us to learn. Now, we all enjoy the water together. It has been a truly life-changing experience for the entire family."