Written by Eric W., Making Waves Swim Instructor
The temperature is finally dropping, the leaves have changed, and Halloween is fast approaching! Fall is well and truly here. Personally, I am loving it, Fall is my favorite season. While dropping temperatures may put a hindrance on swimming at the beach, Making Waves Swim Schools has heated indoor pools (to a minimum of 85 degrees) to make our swimming classes nice and toasty all year long.  Outdoor swimming may be put on hold till warmer temperatures return next year but the Scuba season is still in full swing. SCUBA or Self Contained Underwater Breathing Apparatus diving is my absolute favorite sport.  I am an avid diver that doesn't let the changing seasons or the dropping temperatures stop me from jumping in the water as often as possible, plus, I love taking part in underwater adventures.
As such, there is something I have always wanted to do but have never had chance to.  The lake that I frequently go to for Scuba diving is called Dutch Springs. Think of it as an amusement park for Scuba divers. There are "attractions" that have been sunk there on purpose for divers to enjoy in addition to any marine life you might see. They also run events every once in awhile like the underwater pumpkin carving contest. My favorite sport combined with an activity iconic of my favorite season? Perfect!
The day of the event started much like any other day of scuba diving with the exception of a quick stop at the store to pick up a pumpkin and carving kit. Once I got to Dutch Springs, I registered at the gift shop and headed down to the staging area. The rules of the contest dictated that the pumpkins must have the guts and seeds removed prior to entering the water. There were about 30 people registered for the contest and the fish can only eat so much (and they don't eat pumpkin seeds at all). It was fun to use this time to hang out with the other divers and trade carving ideas. After that was done, we geared up and headed into the water.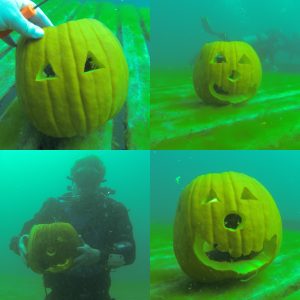 The carving area is on a platform submerged in about 25 feet of water.  The water temperature was about 70F which is really warm for Scuba diving.  Fun fact: pumpkin shells are very, very buoyant. So much so that another diver advised me to put a weight inside it. Thank goodness for that because even with a four pound lead weight inside it my pumpkin shell was still very light. Carving underwater also provides a unique challenge in that most of your tools are also buoyant. You can't just put something down and expect it to stay there, it will be floating on the surface 25 feet above your head. This contest had three main categories: most scary, most funny, and most original. Each of these were then divided further into "pre drawn" and "freehand" categories. Since this was my first time participating in this event, I decided to freehand carve a standard jackolantern with a funny face instead of a scary one. After I finished carving my own pumpkin I had some extra time, so I watched some other divers carve theirs which was great fun. After that, we all headed back to shore, packed up the diving gear, and brought our entries over to the judging center. I was blown away by how creative and artistic some of the entries were and the fact that they were carved entirely underwater made them even more impressive.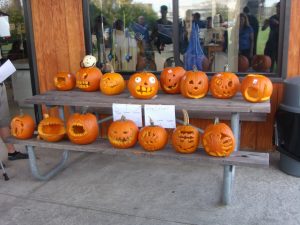 I am very happy with how my jackolantern came out but unsurprisingly I did not win anything. Honestly, I could have cared less. I had a blast just going through the unique challenge and hanging out with other divers. Next year, however, will be a different story. I will have this year's experience under my diving belt and will be better prepared. Until then, I have an entire year to think about the cool creation I will make during my underwater pumpkin carving adventure. Watch the video here.
Swim Safe.  Swim Fast.  Have Fun!
Mr. Eric W.
Making Waves Swim School Instructor